Towards Class A Award Winners Gallery launched
Why a Gallery of Winners?
The objective of this gallery is to present the best contestants by generating an attractive poster summarising the main activities carried out, the highlights and results and finally some top tips. The diversity of European cities provides the appeal of the Gallery representing small, medium and large cities as well as four regions from 13 Countries.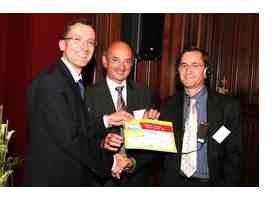 Why an award for Communication?
Since 2003, the European Display® Campaign has shown that reducing the consumption of buildings in Europe, can significantly be accelerated if local authorities stimulate behavioural change by communicating the performances of their buildings to politicians, technicians, building users, and the public. Displaying Building Energy Certificates is just the first step in a long process to improve building performance. Without an active involvement of conscientious users, the investments in building design, more efficient electronic devices and advances in energy management can be wasted or not achieve its intended potential. The creation of a European Award linking building certification to high-quality and original communication campaigns demonstrates that local governments can lead by example to making Europe more energy efficient.

History
Since 2006, 36 cities from 16 countries have taken part in the Award.


Riga 2006: 1st "TCA" Award Bristol (UK) won the first prize for its creative concept. Second and third prizes went to Brasov (Romania) and Lille (France) respectively. Lausanne (Switzerland) received the "special jury prize".


Brussels 2007: 2nd "TCA" Awards Lausanne won the first prize for its excellent communication strategy. The Second place went to Montreux (Switzerland) and the third prize was shared by Echirolles, Colomiers (France), and the County of Durham (UK).


Brussels 2009: 3rd "TCA" Awards Highland Council (Scotland) won the first prize for its success involving the local inhabitants in a sincere and positive dialogue. The second prize went to Pamplona (Spain) and the third to Lviv (Ukraine).


Salerno 2010: 4th "TCA" Awards Ivanic-Grad (Croatia) won the first prize for the inclusion of all the important actors within their campaign. The second and third prizes went to the Pays de Rennes (France) and Zürich (Switzerland) respectively.
The 2011 award will be launched on the 10 January 2011 and the deadline will be the 15th of March 2011. The application form will be placed on line at the beginning of next year.