Lille lived up to its ambitions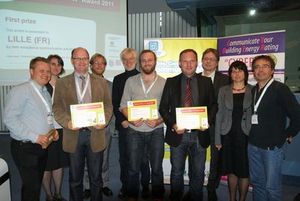 This year Ceremony was held at the end of high profile event "Communicate your buildings energy rating - 7 magical years of the Display® Campaign", with Pekka Sauri, deputy mayor of Helsinki (FI), announcing the winners as the president of this year's Jury.
Mr Sauri said: "The judging was not easy at all. All finalist had shown many positive efforts and it could go either way. With different jury, the results might be quite different too."
At the end, Lille (France) proved to be one step beyond and thanks to their unique communication campaign and activities through the last year, the French city won the TCA Award 2011!
The second and third prize went to Cork County (Ireland) and Velenje (Slovenia) respectively.
Once again, the clear and strong message is sent: By communicating your buildings performance you can achieve many positive things and improve your buildings performance as well as became leader of energy efficiency in public buildings in your region and country! Turn confrontation into communication!
Thanks to Julien Hainaut (Ville de Vanves) here you can check pictures from the Ceremony.
The TCA Award is supported by

---
TCA Award 2011 prizes

1st prize: A giant energy certificate to be displayed in the public building of your choice.

Energy Cities will provide the winner with 2000 Euros to cover the printing and installation costs for a huge (4mx3m) poster! Follow in the footsteps of the previous award winners, Ivanic-Grad and Brasov. Display big and boost the visible impact of your campaign!
| | |
| --- | --- |
| Ivanic-Grad | Brasov |

2nd prize: An educational kit of 12 models on renewable energy for primary and secondary schools

These models relate to solar and wind energy. Designed by a French educational resource centre, they enable teachers to present renewable energy to their students in an interactive way.
Discover two of them during the official Award Ceremony!
| | |
| --- | --- |
| Photovoltaic house | Solar heater |
Source pictures: http://www.crdp-limousin.fr/




3rd prize: 100 Aquaclic Display® design water saving devices



AquaClic-watersavers fit on all standard taps and showers, halve your water, energy and CO2 consumption and its costs – without any lack in comfort. They also ensure that the city's environmental commitment is visible to the public.






---
Important evaluation criteria for the independent expert jury

1. QUALITY
Concerning the focal themes of energy and water consumption as well as CO2 emissions

i.e. visibility of the communication materials e.g. no. of posters accessible and frequented by the public

i.e. diversity of supporting communication materials used e.g. tools proposed in the communication handbook (stickers) or materials created by the local authority

i.e. public participation e.g. involvement of local stakeholders and building users

i.e. quality of the actions and technical solutions proposed on the Display posters, for local authorities that participate in this Campaign
2. INNOVATION
Energy challenge programme, financial incentives, real time monitoring of the energy consumption, energy notice board
3. INTEGRATION and REPLICATION
How the communication strategy fits into any other programme/global strategy within the local authority/district/country and is it replicable?
---
Contact:
Ian Turner
Energy Cities
+33 381 65 37 93