Depending on the actual situation and the national implementation scheme there are a number of options or situations that are available for a municipality :
A. Certification scheme based on operational rating : Display® can be adapted to the country situation and benchmark requirements and will become a complementary communication option for Municipalities in these countries. This is what was done in France.
B. Certification system based on asset rating : When the National system used total energy use (Lithuania) Display® can be used to show how well the building is being managed. Display can also be used to streamline this system, whereby Display® will be used to show the asset rating of a building for those countries that choose this option.
C. A National certification scheme very different from the Display® approach. The Display poster is promoted as a voluntary European scheme.
France is the first country where it has been possible to adapt Display to the National Requirements.
The Display team, in partnership with members of the CYBER Display project ; have produced 9 country reports and PPT overviews. These documents highlight the possibilities for the adaptation of the Display® poster and its communication campaign to the national transposition of the EPBD in France, England & Wales, Slovenia, Portugal, Finland, Czech Republic, Ireland, Italy and Lithuania.
Adaptation
Czech Republic (en)
England & Wales (en)
Finland (en)
Ireland (en)
Italy (en)
Lithuania (en)
Portugal (en)
Slovenia (en)
Power Point presentations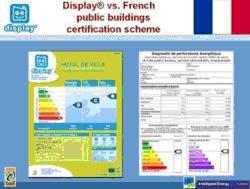 Czech Republic (en)
England & Wales (en)
Finland (en)
Ireland (en)
Italy (en)
Lithuania (en)
Portugal (en)
Slovenia (en)
Hungary (en)
Netherlands (en)