Different measures and action within the Display® Campaign have been covered by local media all across Europe. The Display® Campaign is captured through articles, radio shows and television in many different languages.
The following collection presents the current media coverage listed by language.
If you know of articles about the Display® Campaign which have not been included in the list, you are welcome to contact us.

European articles - Articles européens


Bulgarian articles - Articles bulgares


Croatian articles - Articles croates


Czech articles - Articles Tchèques


Dutch articles - Articles néerlandais


English articles - Articles anglais


Finnish articles - Articles finnois


French articles - Articles français


German articles - Articles allemands


Hungarian articles - Articles hongrois


Italian articles - Articles italiens


Lithuanian articles - Articles lituaniens


Portuguese articles - Articles portugais


Slovak articles - Articles slovaques


Slovenien articles - Articles slovènes


Spanish articles - Articles espagnols


Swiss articles - Articles suisses


Ukrainian articles - Articles ukrainiens

European articles - Articles européens:

Leading by example - by Ian Turner and Peter Schilken
Parliament Magazine Issue 325 - April 2011 (BE) - be (PDF)
---

Bulgarian articles - Articles bulgares:

eнергийна ефективност
03/2006 - bg (PDF)
---

Croatian articles - Articles croates:

Ivanic Grad
Presentation of the first Croation Display Poster 28/10/2008 -
hr (JPG)
---
Czech articles - Articles Tchèques:

Energetické štítky DISPLAY visí nově také na školách v Kopřivnici
nszm - 2010 - cz (PDF)

České domy dostanou energetické vysvědčení
denik - 07/2007 - cz (PDF)

Originální kamion projel deseti českými městy a představil způsoby, jak snížit účty za vytápění a energii
Knauf Insulation - 05/2007 - cz

Evropská kampaň Display 11. května odstartovala i v České republice
Knauf Insulation - 2007 - cz (PDF)
---
Dutch articles - Articles néerlandais:

Energielabels voorDe Klimboom
Trompetter Eindhoven - 11/2005 - nl (PDF)
---
English articles - Articles anglais:

City of Kaunas participates in the European Display campaign
EEA Review 2008 - 05/2009 - en (PDF)

Awareness programmes: Display®
The Carbon Reduction Strategy 2007 - City Council Bristol - 2007 en

Scoil Ruain displays the way forward in Green Schools
Tipperary local presse - 06/2006 -
en

Intelligent Energy News 4
Intelligent Energy Executive Agency - 06/2006 - en (PDF)

Intelligent Energy News 3
Intelligent Energy Executive Agency - 02/2006 - en (PDF)

City leads the way in efficiency
York archives - 02/2006 - en

Kaunas excels in Energy Performance of Buildings Directive
Baltic Cities, Environmental Bulletin N° 1 - 2006 - en (PDF)

Dublin buildings measure Up
11/2005 -
en (PDF)

Energy Boost
Mini essentiels - 09/2005 -
en (PDF)

Public building labelling
Inquiry into Sustainable Communities - 06/2005 -
en (PDF)
---
Finnish articles - Articles finnois:

Oppilaista energiansäästäjiä
HKR Intra -11/2009 - fi (PDF)

Oppilaista tulee valistuneita energiansäästäjiä
Vuosaari- fi (PDF)

"Aurinkokoulu" sai aurinkopaneelit katolleen
Helsingin Sanomat - 11/2009 - fi (PDF)

Oman koulun energiankulutusta seurataan yhdessä
10/2009 - fi (PDF)

Esimerkin voimalla
Locus - 03/2006 - fi (PDF)

Helsinkiin ensimmäiset energia - ja päästtömerkit
03/2006 - fi (PDF)

Helsinki
Lyhyesti - 03/2006 - fi (PDF)

Helsingin julkisiin rakennuksiin energia - ja päästömerkit
03/2006 - fi (PDF)

Display invitation
02/2006 - fi (PDF)

Helsingin julkisiin rakennuksiin energiamerkki
02/2006 - fi (PDF)

Mikä Display
Plussa - 01/2006 - fi (PDF)
---
French articles - Articles français:

La ville affiche le diagnostic énergétique de ses bâtiments
Site de la Mairie de Vanves - avril 2011 (FR) - fr (PDF)

Vanves finaliste aux Display TCA Awards
Site de la Mairie de Vanves - avril 2011 (FR) - fr (PDF)

La basse consommation d'énergie dans le bâtiment
Terres de SIEEEN n ° 24 - juin 2010 (FR) - fr (PDF)

Economies d'énergie : ce que la commune entreprend - Montgermont
Ouest France - 02/07/02010 (FR) - fr (PDF)

Les campagnes d'information et sensibilisation
Montdidier, ville pilote en maîtrise de l'énergie - Dossier de presse - juin 2010 (FR) - fr (PDF)

La campagne DISPLAY - Etiquette énergie pour les bâtiments
Les Cahiers de Global Chance : "Du gâchis à l'intelligence - Le bon usage de l'électricité "- n° 27 - 02/2010 (FR) - fr (PDF)

Des étiquettes " Energie"
BVV (FR) - 02/2010 - fr (PDF)

Efficacité énergétique en milieu urbain - Etudes de cas
Fiche technique Prisme n ° 6 de l'IEPF (FR) - Article sur le programme Display pages 2 et 3 - 12/2009 - fr (PDF)

Les audits énergétiques globaux (AEG)
Terres de SIEEEN (FR) - n°23 - 06/2009 - fr (PDF)

Colomiers. Ville championne de la politique énergétique (FR)
La Dépêche du Midi (FR) - 12/06/2009 - fr (PDF)

Les bâtiments publics à l'épreuve
Le Pisciacais n ° 12 - 26/02/09 (FR) - fr (PDF)

La ville adhère à "Energie -Cités"
Le Pisciacais n ° 6 - 13/11/08 (FR) - fr (PDF)

La Campagne Display en Guérigny
Le Sieeen accompagne la ville dans les économies d'énergie - 03/2009- fr (PDF)

Le DPE profite de l'expérience de Display®
Energie-Plus (FR) - 01/2008 - fr

Economies d'énergie: un prix européen pour la ville
La dêpeche du Midi (FR) - 11/2007 - fr

Colomiers: l'énergie des gestes simples
La lettre du cadre territorial (FR) - 10/2007 - fr

Display : information et sensibilisation pour tous
Hélianthe (FR) - 07/2007 - fr (PDF)

Les bâtiments municipaux affichent leurs performances énergétiques
Actu-environnement (FR) - 06/2007 - fr

Bulletin Display®
Bulletin No 2, Grenoble (FR) - 05/2007 - fr (PDF)

Europe, Affichons notre énergie !
Ademe & Vous - 04/2007 - fr

Avec Display® : affichez les performances de vos bâtiments
En coup de vent, Ademe Picardie (FR) - 04/2007 - fr (PDF)

Ces villes qui affiches leur bulletin de notes
Acteurs publics (FR) - 02/2007 - fr (PDF)

Les bâtiments affichent leurs perfomances énergétiques
IFREE (FR) - 01/2007 - fr (PDF)

Diagnostics de performance énergétique dans les bâtiments publics
Energie-Plus (FR) - 01/2007 - fr (PDF)

Display® au Conservatoire national de région
Nord Eclair - 12/2006 - fr (PDF)

Display à Beaulieu, Floréal, Grand-Vennes, Pierrefleur...
Domotech N° 3/4 - 2006 - fr (PDF)

L'usine à GES
La lettre des professionnels du changement climatique (FR) - 05/2006 - fr (PDF)

Les bâtiments communaux se découvrent
Dole Magazine (FR) - 03/2006 - fr (PDF)

Vers une étiquette énergie
La Gazette des Communes (FR) - 02/2006 -
fr (PDF)

La commune affiche ses consommations
11/2005 - fr (PDF)

Les bâtiments méritent un bon diagnostic
Le Courrier des maires (FR) - 10/2005 - fr (PDF)

Bâtiments et efficacité énergetique: Sensibiliser, réglementer, inciter
Rendez-Vous Climat (FR) - 2005 -
fr (PDF)

Énergie: consommer
Le Rennais (FR) - 09/2004 - fr (PDF)
---
German articles - Articles allemands:

«Gemeinsam in die Klasse A»: Die Westschweiz Klassenbeste in der europäischen Display® Kampagne
Schweischeriche Eidgenossenschaft - 10/2007 de

Kommunen - Vorreiter in der Energiepolitik
Energy Zeitschrift (AT) - 04/2006 - de (PDF)
---
Hungarian articles - Articles hongrois

Energiában mért hatékonyság
11/2007 - hu (PDF)
---
Italian articles - Articles italiens:

PEC&Cyber al comune di Salerno
Il Salernitano- 11.03. 2011 - it (PDF)

Continua con successo la XV conferenza annuale di Energie-Cites organizzata a Salerno
Il Salernitano- 30.04.2010 - it (PDF)

Mukko Palino testimonial del progetto Ciber Display
La Città di Salerno- 30.04. 2010 - it (PDF)

Salerno Energia e il progetto Cyber Display alla manifestazione "progetto a come agora'"
Comunicato Stampa- 29 04 2011 - it (PDF)

Incontro Internazionale di Energie-Cités- Nel corso del Cocktail di Benvenuto presso il Forte La Carnale, le cerimonie di premiazione del concorso "Comunica il tuo risparmio con Cyber Display" e del premio "Towards Class A"
Comunicato Stampa- 29 04 2010 - it (PDF)

La città del futuro protagonista a Energie-Citès – Il pupazzo Mukko Pallino testimonial dell' evento
Il Salernitano- 29.04.2010 - it (PDF)

Domani parte la XV conferenza annuale di Energie-Cités organizzata da Comune e Salerno Energia
Il Salernitano- 27.04. 2010 - it (PDF)

Un congresso per la citta verdi-Inizia domani la tre giorni di Energie – Cites sviluppo sostenibile al centro del dibattito
Il Denaro- 27.04. 2010 - it (PDF)

Risparmio energetico Convegno Energie-Cites
La Città di Salerno- 27.04. 2010 - it (PDF)

Incontro Internazionale di Energie-Cités
Inventare il domani: le città d'Europa in trasformazione - 28/30 Aprile 2010, Grand Hotel Salerno"
Comunicato Stampa- 26 04 2010 - it (PDF)

Salerno Energia s.p.a. partecipa al convegno
"PEC & Cyber: due strumenti per l'energia"
presso il salone dei marmi del comune di Salerno: la principale azienda per i servizi energetici della provincia di Salerno ha presentato la conferenza europea di Energie-Cités, che avrá luogo a Salerno dal 28 al 30 aprile 2010.
Comunicato Stampa- 10.03 2010 - it (PDF)

Salerno: Ragazzi TG Salerno e il progetto Cyber
Youtube - 03 01 2010 - Click here for the video, 2'02

Verona prigioniera di traffico e smog
L'Arena - 10/2006 - it (PDF)

Verona più verde, ma la peggiore d'Italia per smog
Cronaca Verona - 10/2006 - it (PDF)

Campagna veronese per risparmiare energia
01/2006 - it (PDF)

---
Lithuanian articles - Articles lituaniens:

Liko be elektros ir silumos-
Kauno diena -23- 2010 lt (PDF)
Kauno regionine energetikos agentura - Jusu poreikiams
Mokslas ir Technika, Nr. 10 - 2008 - lt (PDF)
Krea - Kauno regionine energetikos agentura
Kas yra kas Lietuvoje, Krastieciai, Kaunas - 2008 - lt (PDF)
Cyber Display presentation in Lithuania, Kaunas
Youtube - 28 04 2009
---
Portuguese articles - Articles portugais:

Escola Pereira Coutinho - Qual é o desempenho destge edificio ?
Energia (Agência Cascais Energia) - 2008 pt (PDF)
Almada acolhe peritos estrangeiros em energeia e coloca posters com o desempheno energético de escolas
Agência Municipal de Energeia de Almada - 2009 pt (JPG)
Slovak articles - Articles slovaques:

Štítkovanie budov aj na Slovensku
Reality Aktual - 12/2006 - sk (PDF)

Vrakuňa lìdrom v štìtkovanì budov na Slovensku. Kampaň Display.
Správca bytových domov - 11/2006 - sk (PDF)

Infomagazin
10/2006 - sk (PDF)

Infomagazin
07/2006 - sk (PDF)

Infomagazin
07/2006 - sk (PDF)
---
Slovenien articles - Articles slovènes

Display komunikacija: Vidni rezultati na področju URE
Sinenergija - 06/2010 - si (PDF)

Display tekmovanje " Towards Class A 2010" v Salernu
Sinenergija - 05/2010 - si (PDF)

Primer dobre prakse
Sinenergija - 11/2008 - si (PDF)

Projekt CYBER Display
Revija za predstavitev razvojnih - 12/2008 - si (PDF)

---
Spanish articles - Articles espagnols

Campaña Display en la ciudad de Pamplona
Be Energy - La revista de la eficiencia y el ahorro energético #2 - 10/2010 - es (PDF)
---
Swiss articles - Articles suisses

Mendrisio - Città trasparente su consumi ed emissioni
Corriere del Ticino (CH) - 09/2011 - it (PDF)

Mendrisio Inizia la campagna "Display" sul risparmio energetico
Giornale del Popolo Online (CH) - 09/2011 - it (PDF)

Mendrisio punta ad una maggior efficienza con la campagna Display e la telegestione
L'informatore (CH) - 09/2011 - it (PDF)

Mendrisio punta alla "A"
La regione (CH) - 09/2011 - it (PDF)

L'Azione Display
sito ufficiale della Città di Mendrisio (CH) - 09/2011 - it (PDF)

Conférence de presse RVAJ - Neuchâtel - Vers une société à 2000 watts dans l'Arc Jurassien
Ecoparc (CH) - 02/2010 - fr (PDF)

Des étiquettes énergétiques pour les bâtiments publics
24 Heures (CH) - 02/2010 - fr (PDF)

Biel hechelt Westschweiz hinterher
Bieler Tagblatt (CH) - 02/2010 - de (PDF)

Cité de l'energie : Un label très tendance - Exemple de la commune de Vernier (GE)
Propriété (CH) - 06/2009 - fr (PDF)

La campagne Display continue - Les performances des bâtiments à l'ordre du jour
Cité de l'énergie-News (CH) - 05/2009 - fr (PDF)

La Campagne Display en Suisse
L'exemple du "Energy Day" à Vernier (GE)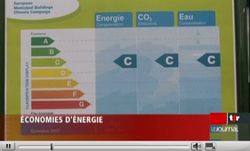 Reportage sur TSR, télévision suisse - Octobre 2008

Display : Lausanne et Montreux récompensées pour leur chasse au gaspillage
TSR video (CH) - 11/2007 - fr

Distinction européenne pour une cité de l'énergie
24 Heures Région Lausannoise (CH) - 10/2007 - fr (PDF)

La ville monte sur un podium européen
24 Heures Region Riviera Chablais (CH) - 10/2007 - fr (PDF)

Deux villes vaudoises très bien notées
Matin bleu (CH) - 10/2007 - fr (PDF)

«Ensemble vers la classe A»: la Suisse romande, première de classe pour la campagne européenne Display®
Confédération suisse (CH) - 10/2007 - fr

La Campagne Display en Suisse, reportage sur TSR, Télévision suisse

Des "certificats énergétiques" sont placardés sur les bâtiments
L'express (CH) - 03/2007 - fr (PDF)
- La consommation d'énergie s'affichera sur les murs
24 heures (CH) - 12/2005 - fr (PDF)

Lausanne pilote énergétique
Lausanne Cités (CH) - 12/2005 - fr (PDF)

Economie d'énergie: les bâtiments publics donnent l'exemple
Affaires publiques (CH) - 11/2005 - fr (PDF)

SuisseEnergie
Newsletter OFEN (CH) - 11/2005 - fr (PDF)

Sobriété économique et écologique
Nouvelliste (CH) - 11/2005 - fr (PDF)

Indépendance énergétique de la Suisse: le coup d'accélérateur
Le Temps (CH) - 11/2005
fr (PDF)
---
Ukrainian articles - Articles ukrainiens

Display - енергoефективний плакат
КОММУНАЛьНОЕ ХОЗЯЙСТВО N°2 февраль 2008 - ua